Welcome to the jackpot site for CS:GO players – csgopoor.com!
Even cheap skins matter on csgopoor.net
Most of the gamers have in their Steam inventories lots of common, very cheap skins. Usually, they can't be used on gambling sites – either because of the platforms' rules or due to the specifics of games, such as CSGO jackpot, where expensive skins give bigger winning chances.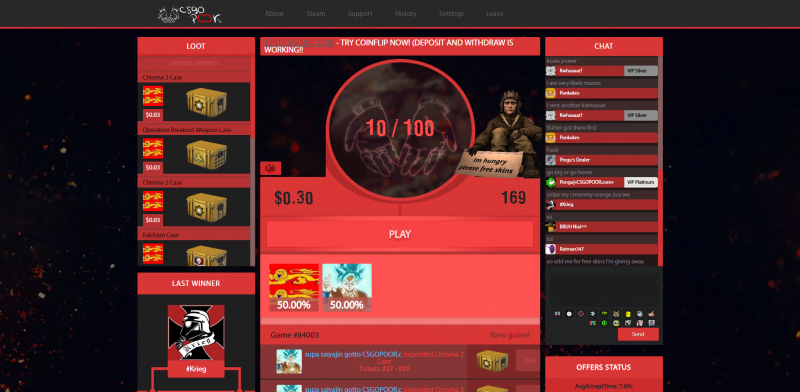 The very name of this site explains its loyalty to "poor gamblers" – those who play with cheap skins. Rules of the platform try to support them. For example, on Jackpot, we have a max limit of 5 skins for depositing, and each can cost even $0,01. All players place their bets in one pot, a random system chooses a winner, which gets all the skins (minus a commission of the csgopoor).
Another one game here is a classic coinflip. If you want to bet cheap CSGO skins, just create a game with them, choosing a coin side, or accept an appropriate for you proposal from other gamers.
CSGO poor has all its games on one page. It may be convenient for someone, but also a bit confusing for someone else.
To gamble here, we should deposit CS:GO skins first. They all will get their price automatically, to indicate a value of your bets.
For those, who are asking – is csgopoor legit, or is csgopoor scam, we recommend to pay attention to the logo in the left upper corner. In fact, this platform is a copy of csgosmith.com, so we can assume that owners of csgosmith just got this domain, and even if csgopoor has a non-clear history, it was totally renewed. Now. It is one of nice CSGO jackpot sites for poor.
Target Audience of csgopoor.net
The bigger audience for the site is from Spain. Other information Is not available due to a very low traffic.
Bonuses and Promotions
Users can get -2% from the commission on csgopoor if they place the domain of the parental project to their Steam nicknames – csgosmith.com. Also, they can become VIP users by betting big amount of money. The reward is the same smaller commission: from -1% for $1400 of bets to -4% for $10,000.
Conclusions
It is quite odd to see one gambling site in a totally different domain. Still, we have quite functional games here: Jackpot and Coinflip. They have been placed on one page, what is an interesting decision for a site design. We can expect new features to come in the future – like CSGOblackjack. This site can even become one of CSGO betting sites for poor. Now gamers can freely jump to csgosmith.com, getting the same experience there. The platform is available only in English.